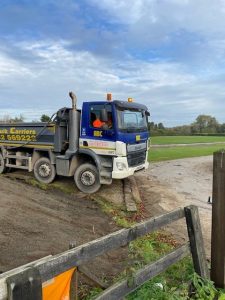 8 Wheel Tippers remove As Dug Soil
Ham Polo Club is the last remaining of the many clubs that existed as satellites to London's 'Big Three' – Ranelagh, Hurlingham and Roehampton. The club began life as the Ham Common Polo Club in 1926, with one full sized ground and two smaller grounds. The first ground was next door to Brown Gates House, Church Road, Ham Common, home of the first chairman, Loftus Storey.
The project
Maintaining the field of Ham Polo club is of the utmost importance in order to insure player safety, polo playing quality and turf grass quality.  Atlas Bulk Carriers were called in to remove 800 Tonnes of As Dug Soil from the field at the end of the playing season.
Removing the soil required care and attention over a period of two days to ensure minimal damage to the grass.
Work will continue on the field throughout the winter to ensure it's at its best for the start of the 2022 season in May.
Other Atlas Bulk Carriers News: